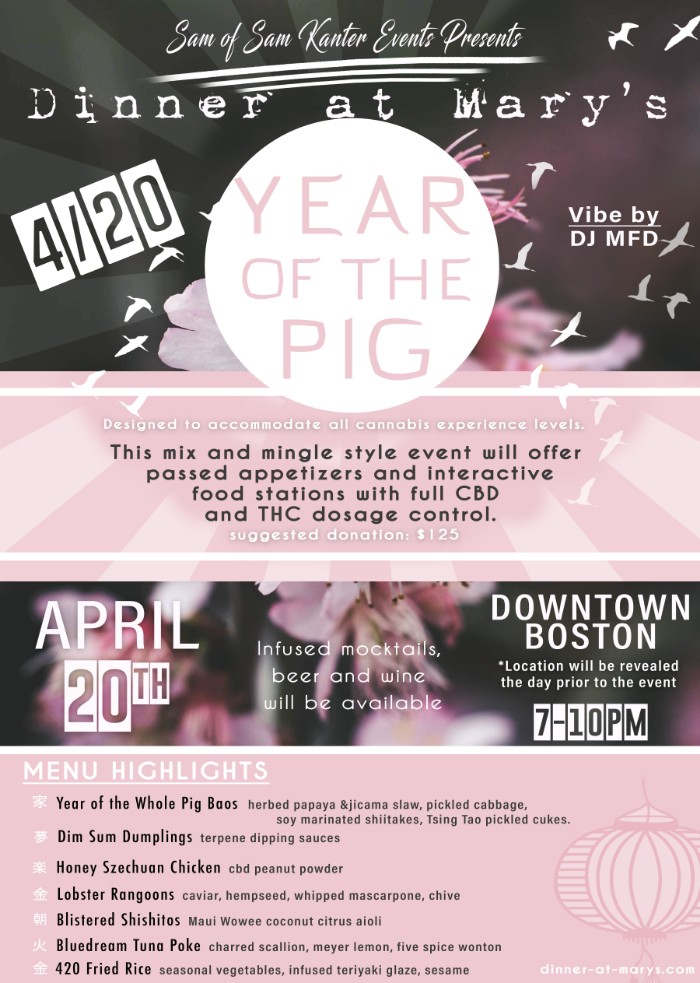 Year of the Pig - 4/20
Sat, Apr 20, 2019 from 7pm - 10pm
This is a mix and mingle style event featuring interactive food stations, and passed appetizers with full THC and CBD dosage control.
There will be an infused mocktail bar as well as beer and wine available.
Designed to accommodate all cannabis experience levels, or offer a fully non-infused experience if preferred.
Tickets are a suggested donation, cannabis is gifted to guests as an enhancement to the experience.
Vibe by DJ MFD
MENU HIGHLIGHTS
Year of the Whole Pig Baos herbed papaya and jicama slaw, pickled cabbage, soy marinated shiitakes, Tsing Tao pickled cukes
Dim Sum Dumplings terpene dipping sauces
Honey Szechuan Chicken CBD peanut powder

Lobster Rangoons caviar, hempseed, whipped mascarpone, chive

Blistered Shishitos Maui Wowee coconut citrus aioli

Bluedream Tuna Poke charred scallion, meyer lemon, five spice wonton

420 Fried Rice seasonal vegetables, infused teriyaki glaze, sesame