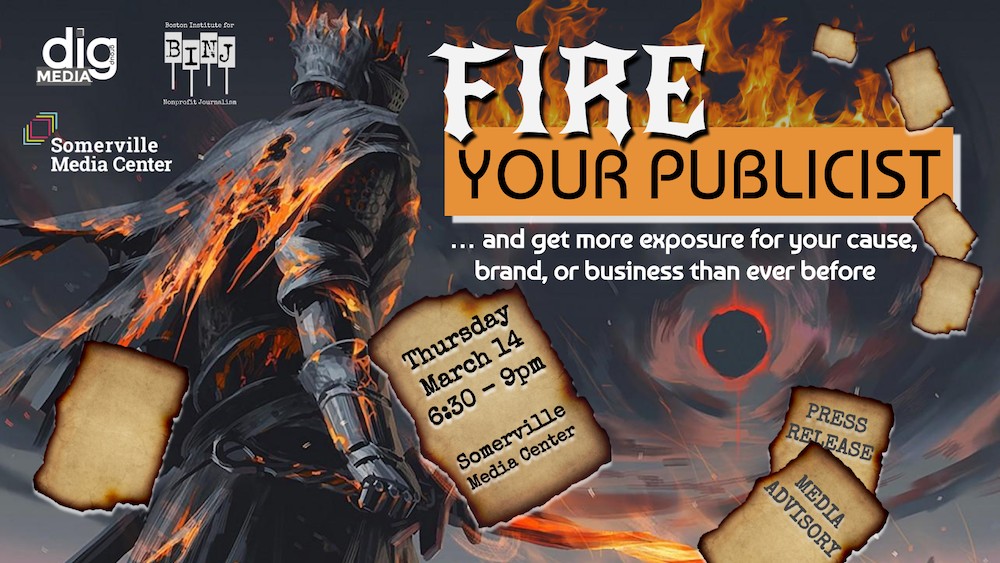 Fire Your Publicist (and get more exposure for your cause, brand, or business than ever before)
Thu, Mar 14, 2019 from 6:30pm - 9pm
Have you ever hired a publicist and been disappointed in their performance? Did you get ripped off? Did they make promises they couldn't keep? And then blame it on you and your product, nonproprofit, or company?
Or have you simply looked into getting a publicist, and been blown away by how much they charge for campaigns?
If any of this applies, and if you are looking for real tips on how to get exposure, then this workshop is for you.
Presenters Chris Faraone and Jason Pramas are the editors of DigBoston and co-founders of the Boston Institute for Nonprofit Journalism. With more than 40 years of combined media experience between them, they have written for national and local outlets, from the Boston Phoenix to Esquire, BuzzFeed, and In These Times.
A lot of professional publicists started off in the media. But Chris and Jason are still deep in the industry, and pull no punches in their assessment and presentation of the media landscape. In order to know how to game the media, you need to understand how it works, and this is a crash course like none other.
We have taught this class before — in the past, we have called it HOW TO PITCH REPORTERS AND EDITORS — and it has been a major success every time. Here's the kind of information we'll be sharing:
"Pitch something in ten different ways. The founder of your company- Where'd they go to school? Do they have an alumni magazine? Most people never think about those."
It's also important to tailor the pitch to the outlet with appropriate age, demographic, and sections for your product.
For best results, pitches should borrow a trick from paper newspapers: putting the biggest news "above the fold." If you can focus the most attention-grabbing bit into a subject line that doesn't break, you've written a good subject line.
Don't pretend to be a journalist. "Fake content and pilfered writing" are as loathed as they are easily spotted. Instead, [BINJ Projects Coordinator Emily] Hopkins suggested a different approach. "Better to do it short and sweet. Distill it. Use bullet points, and have a maximum of 200 words. If you have more, use links or an attachment."
ADDITIONAL READING
From "A Message To Business Owners About Publicists" by Chris Faraone:
Here is how the process often goes behind the scenes, at least on the local level: 1 – A publicist approaches business owners who know very little about how the media world spins, and promises said client to get them good coverage in the brightest outlets; 2 – Business owners then hand over several thousand bucks a month, much of which formerly went to the publications and stations that the publicist said they can woo; 3 – Depending on the connections and skill of the publicist, they will succeed to some arbitrary degree in their mission to get the business some ink, whether in their own words via outlets that do zero diligence and reprint press releases, or through any number of other compromised avenues, from brute force on whatever platform's hopping to the dreaded sponsored post or advertorial.
From "A Publicist Shaming" by Chris Faraone:
PR reps are hired propagandists for whoever's paying, from corporations, to politicians, to the spouses of professional athletes, many of whom literally buy their way into your glamor mags and onto television. If you've ever wondered how some mediocre person or another wound up giving advice that they aren't qualified to deliver, or got put on a list of best something or another despite their obvious shortcomings, ten times out of ten they hired a publicist.