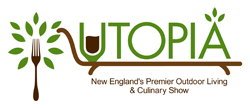 Micro Utopia "Live Well Live Inspired"
May 6 10-8PM May 7 10AM-8PM
If you love outdoors, gardening, home design, mixology, and consider yourself a foodie, Micro Utopia cannot be missed! Immerse yourself in the beauty of the gardens at Elm Bank, shop carefully curated vendors, and learn from leading industry experts about what it takes to craft your own Utopia. Come gather with us and experience the best of what Utopia has to offer.